Tiffany started her healthcare career during her senior year of high school when she worked as a CNA. Four years later, she moved up to Med Tech and then transitioned to memory care as the Memory Care Manager. Tiffany fell in love with the residents of the memory care unit and was promoted to Executive Director where she is currently serving. "My residents keep me coming back," Tiffany said.
Trina Dockery began her career in senior living at Somerset Court of Cherryville as a Certified Nursing Assistant, assisting residents with activities of daily living, including bathing, dressing, and getting around our community. Realizing this was a field she wanted to continue to grow in, Trina advanced her certification to become a Medication Technician. In both of these roles, she spent her days working closely with our family of residents, learning about them and their needs, and working diligently to support those needs.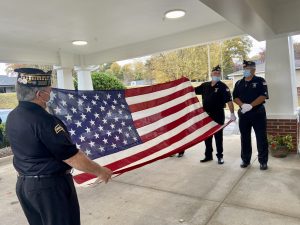 Somerset Court of Cherryville Honors Community Veterans Somerset Court of Cherryville Assisted Living hosted a Veterans Day celebration where they honored residents who served in the armed forces. Cherryville Mayor H.L. Beam, Councilwoman Jill Puett, American Legion Post 100, and other community members were all in attendance. Residents Dale Leagan, Robert Gore, Claude Dixon and …
Somerset Court of Cherryville Honors Community Veterans Read More »
Joanna Hopper, Supervisor of Housekeeping, is no stranger to caring for others. With six children and many grandchildren and great grandchildren, her heart reaches wide. It's no surprise that her care for others reaches into her work here at Somerset Court of Cherryville.
Pam Hudson, Dietary Manager, has been with the Somerset Court of Cherryville for 18 years. As a long-time employee, Pam is an integral part of the culture here